HOW DO I EVICT A TENANT OR OCCUPANT?
5 STEPS (click to open & close each step or question)
Por qué debería contratar al Rápido y eficiente Abogado Marshall?El abogado irá con usted a CorteEl abogado preparará todos los documentos necesarios ante la Corte.
FREE 3 Day Notice!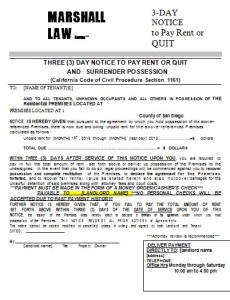 "Free service of process of notice"
Just email request and signed notice to marslawbmw@gmail.com
ESTIMATED TIMELINES FOR NON-PAYMENT OF RENT EVICTION CASES
TIME ESTIMATE
UNCONTESTED CASE: 30-49- DAYS
CONTESTED/TRIAL CASE: 45-60 days
ACTION STEPS  TO OBTAIN JUDGMENT and LOCKOUT 
STEP 1: SERVE FAST EVICTION LAWYER 3 DAY NOTICE (sample 3 Day Notice)……..FOUR business DAYS then Step 2.
STEP 2: File Summons and Complaint begin service efforts.
STEP 3:  Serve Summons and Complaint.
Methods of service will change time period to respond
5 DAYS:  Personal service-5 days to file a response/Answer (CCP Sects. 1167  & 415.10)
15 DAYS:  Serving other adult occupant "substituted service" adds 10 days (CCP 415.20).
20-25 DAYS: Posting on door with Court Order (CCP415.45)  response due 10 in days.
STEP 4:  Defendant's Response DUE DATE or First day to file default judgment request
Note; Additional named defendants/unknown occupants  cannot be defaulted until the 10th day after service of  Summons, Complaint (and prejudgment claim of possession).
Only upon the end of this period of delay can we go on to Step 5.
STEP 5:  File request for Default Judgments and/or Request to Set Case for Trial.
Default Judgment returned:  5 Court days
Trial:  must be held within 20 days of filing Request for trial. (see time summary below)
STEP 6:  Obtain default judgment or obtain judgment after trial
STEP 7: Obtain writ of possession and send to Sheriff with lockout instructions
STEP 8: Sheriff's LOCKOUT.
TIME FRAME SUMMARY: DEFAULT JUDGMENTS TRACK
4 DAYS: Serve eviction notice and file complaint
5 – 25 DAYS  time for Defendants to file an Answer or Response
5 DAYS for return of Default Judgment-then file Writ of Possession
5 DAYS for return of Writ of Possession
10-12 DAYS until Sheriff's lockout
TRIAL/CONTESTED TRACK-  15 DAYS added
Trial must be set within 20 days of filing request for trial: 15 days average
---
Previous Radio spots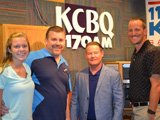 Daniel Marshall talks about recent news of a housekeeper that wast told to leave the house, and they couldn't kick her out.  Also squatters living in your house when you have been away?  Getting them out can be more complicated then you think with out the right knowledge. Find out what they should have done differently and more.